2016 Mercedes-Benz GLC Ground Clearance
The Mercedes-Benz GLC is brand new this year. Everyone likes the look of it, but when it comes to practicality, the main question is in regards to the 2016 Mercedes-Benz GLC ground clearance. Is it tall enough to get into the driveway without scraping? What if we go camping? Can I change the oil without needing a jack?
2017 Mercedes-Benz CLA Facelift Pictures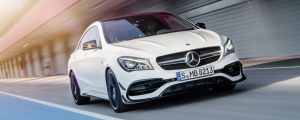 The Mercedes-Benz GLC is one of the most advanced SUVs on the market. Because of this, it may come as a surprise that the ground clearance of the new SUV actually varies.

The 2016 Mercedes-Benz GLC has a ground clearance of 7.126 inches. When equipped with DYNAMIC SELECT, the GLC can raise itself to a height of 8.937 inches to maximize off-road performance and mobility. Depending on the driving mode and driving conditions, the GLC will automatically select its drive height somewhere in between 7 and 9 inches.

The GLC Coupe is meant to be a sportier, crossover version of the GLC SUV. The GLC Coupe uses the same DYNAMIC SELECT technology to adjust the air suspension as needed, but the GLC Coupe sits about 4 centimeters lower than the GLC SUV when it comes out of the box. Mercedes-Benz has not yet released an exact number for the GLC Coupe ground clearance but when the information is available, we will let you know!
The GLK is the predecessor to the GLC. Like the GLC, it offered an affordable entrance to the Mercedes-Benz market. Also like the GLC, the GLK was sporty and fun to drive, but it didn't have DYNAMIC SELECT driving modes and it a little bit smaller. The GLC is longer than the GLK by about 12 centimeters. It is 5 centimeters wider, and sits .9 centimeters higher, providing drivers with more usable technology, stability, and control. If you have any questions about the ground clearance of the 2016 Mercedes-Benz GLC, leave a comment in the section below!