It's a big weekend for Mercedes-Benz. The state-of-the-art stadium named after Mercedes-Benz opens for the first time for an NFL game. Mercedes-Benz Stadium in Atlanta, GA is luxurious, comfortable and filled with innovation. Does it remind you of Mercedes-Benz? It should! On Sunday, September 17, Mercedes-Benz Stadium will open their roof (weather pending) for a Sunday night matchup between two of the best teams in the NFL, the Atlanta Falcons and the Green Bay Packers. Keep reading to find out more about Mercedes-Benz Stadium!

---
Did You Know? Learn More About Mercedes-Benz!
---
About Mercedes-Benz Stadium
At over $1.5 billion in cost, Mercedes-Benz Stadium features a modern and state-of-the-art design featuring a retractable roof made of eight sliding panels opening like a pinwheel. Throughout the 70,000-capacity stadium, you'll find luxurious ammenties, such as multiple resturants, including a Chick-fil-A, a circular LED scoreboard that stretches throughout the stadium, a bar that stretch the 100-yard length of the field, and a modern art collection with more than 180 original commissioned pieces.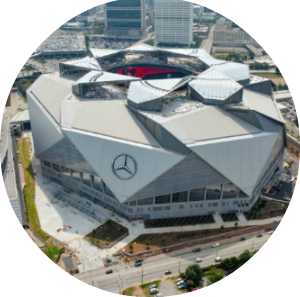 Who do predict will win Sunday night's game – Falcons? Packers?
Leave a reply below with your pick!
---
Mercedes-Benz Stadium Makes Its NFL Debut Sunday, September 17
On Sunday, Septemember 17, Mercedes-Benz Stadium in Atlanta, GA will make its NFL regular season debut as Matt Ryab and the Atlanta Falcons host Aaron Rodgers and the Green Bay Packers on Sunday Night Football.